If you're reading this, you're probably familiar with the Food Network star Giada de Laurentis from the show Everyday Italian. Besides being famous for her delectable Italian recipes and mouthwatering Instagram feed, Giada's show also involves a fair bit of her family, her American-Italian heritage and her lifestyle in general. We love her endearing, doting humor and all things that tie back to food and her show, one of the key ingredients of which is undoubtedly her sumptuous house.
The bungalow is truly stunning, and its modern 'mid-century' design can knock the breath out of even the most fastidious architects. Ever since the celebrity chef purchased her new house, and started giving it some renovations, fans have been wanted to see her luxuriant abode in its full glory. Here's all the little details about Giada's home sweet home.
Giada's "Mid-century" Los Angeles Bungalow
Though the property where she films Everyday Italian is already high-class real estate, Giada bought a relatively humble dwelling  – a 3600 – square-foot Pacific Palisades bungalow at a whopping $4.86 million – for her family. It's no surprise that fans have gone gaga over whatever little they've managed to see. The house was already quite capacious and beautiful when she bought it, but she nevertheless ended up getting some renovations done to have space for her daughter.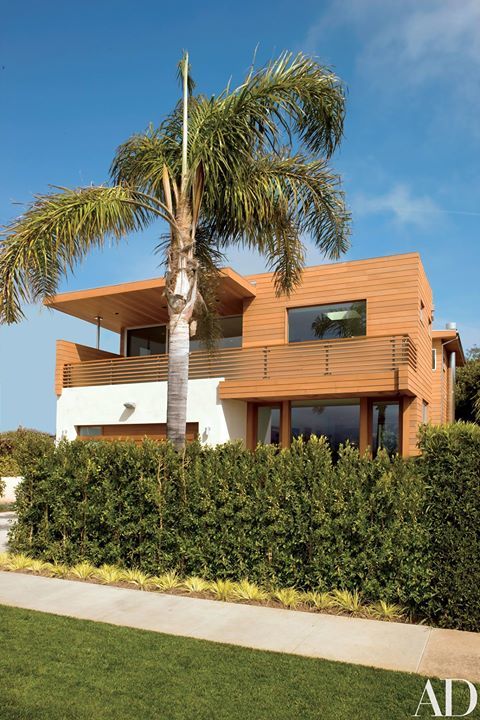 Well, all envy aside, if we know something about Giada, it's that she's got great taste and would never settle for anything less than what she (and her family) wants. Her show, Giada At Home 2.0, saw a huge rise in fan following as the pandemic saw her getting literal with her show title.
What her home looks like
The house has a nice blend of modern interiors coupled with historical architectural design that gives it an opulent charm. It is the modern epitome of roomy goodness, with five bedrooms and bathrooms for extended self-care time and curved dining spaces with windowed walls to view the outdoors where there is a swimming pool, a patio, and a backyard that can also be seen from a smaller living room. Now that's a lot of space, and Giada's personality really shows its mark. "The funny thing is," she told Elle in an interview, "I'm a neat freak and I clean up after everything!"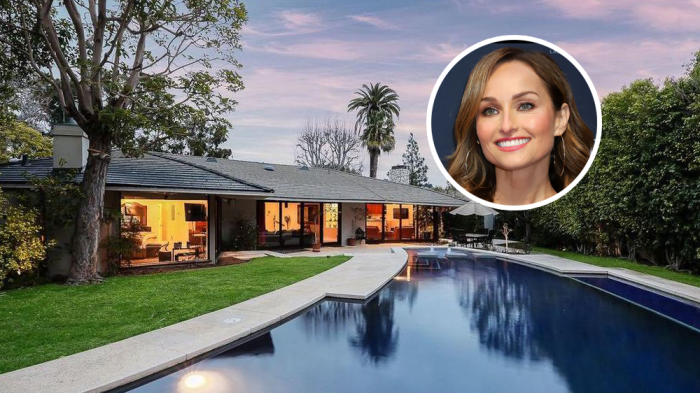 But we'd be amiss if we didn't mention the kitchen. She is, after all the host of Everyday Italian. As you'd expect, the kitchen is quite roomy, and has everything that Giada could want. But fans would already be familiar with the kitchen since she's always cooking.
She first gave her viewers a glimpse of the new house in the summer of 2020 as she filmed herself – with help from her daughter and husband Todd Thompson – during the coronavirus pandemic.
The kitchen is, of course, a piece of art in itself, featuring state-of-the-art appliances, green backsplash and immaculate countertops, wooden cabinetwork, and wooden floors. The rooftop offers spectacular panoramic views but the large windows should afford them a view of the waves from their bedroom as well. It's truly the perfect place for a chef like Giada to cook up new ideas to offer the savory little episodes that feature all of her zesty cooking and sweeter than honey family.
Different house, same neighborhood
Giada's bungalow is in the Pacific Palisades of the Riviera neighborhood in Los Angeles. She has another modern home in the same neighborhood which she had bought in 2016 for a staggering $6.9 million.
The Riviera sits right in the middle of the Santa Monica Mountains and the Pacific Ocean and is easily one of the more affluent areas of Los Angeles. With elemental beauty all around, the charm of her house gets all the more amplified.
There are also popular architectural and historical landmarks like the Getty Villa museum and the Eames House. Given the latter's mid-century modern architecture, it is easy to see where the inspiration for the Spanish-style bungalow comes from. This glamorous, contemporary house was a dream for Giada and her husband Thompson, and is now a reality for the family as well as the viewers with whom she shares it all.